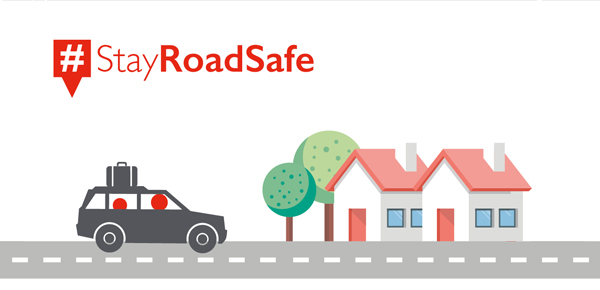 However well you think you know the rules of the road, it pays to remind yourself of why it's important to stay alert when you're on the move. In 2018, there were more than 160,000 casualties reported as a result of road traffic accidents, according to government figures.
And, while some road accidents are unavoidable, the majority can be prevented. That's why we created #StayRoadSafe - a road safety campaign for everyone, no matter how they're getting to their destination.
Rules of the road
Every mode of transport has its own particular set of rules and guidelines, which we've made easy to understand with clear infographics and factsheets. That way, you'll know how best to avoid accidents however you choose to get there.
We've also included top tips on staying safe and staying seen by other road users if you're in a car, on a motorbike, cycling or if you're going by foot. Click on the icons in the image to learn more about road safety.
Injured in a road traffic accident
Should you be injured on the roads, we're here to support you through a road accident injury claim. Our specialists understand the nuances of every kind of road accident and have supported thousands of road users involved in accidents.
Our lawyers have secured tens of millions of pounds in compensation for our clients and put them in contact with high-quality support groups and rehabilitation services to aid their recovery. We also support the aims of charities like RoadPeace and Brake, and work to prove ethical support to victims of serious and life-changing road collisions. We never work for motor insurance companies, and we never will. So, you can trust that we are 100% on your side when you're making a claim.
Fatal road accident statistics UK
The government's fatal road accident statistics show that in 2018, 1,784 road users in Britain lost their lives in a road collision. These figures include pedestrians, drivers, motorcyclists and cyclists who were killed on the road.
The statistics opposite highlight 2018 fatal road statistics in England and Wales, by region.
This data highlights the need for a continued focus on road safety to create safer roads for all.
Read how we support families of fatal road accident victims.
Making a road traffic accident claim
Whether you have suffered cuts, scrapes and bruising from an accident on the road or a more serious injury, our specialist lawyers can help determine whether you can make a claim for compensation.
Call our team of road traffic lawyers on 0800 0 224 224 for free, no obligation, legal advice. Alternatively, complete our online claim to start a claim by following the link below.