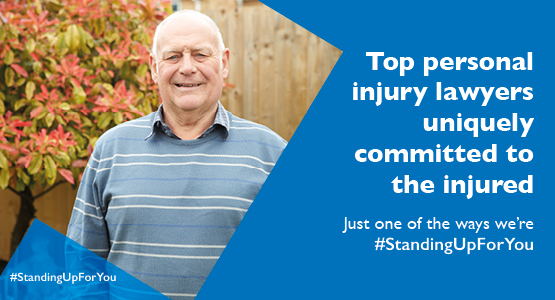 Thompsons Solicitors is the law firm dedicated to standing up for you
Unlike non-specialist lawyers, Thompsons Solicitors is committed to injured people – we have never, and will never, act for insurance companies or employers. Since 1921, we have been standing up solely for the injured and mistreated. We are committed to working people and use our specialist expertise to support the injured, and their families, in every way we can. 
Our ethos means that we are totally on the side of the claimant – the injured person – and committed to getting the best personal injury claim outcome for them.
National strength in depth with local knowledge
For nearly 100 years we have been running and winning personal injury claims. We have led the field acting in many of the high-profile, landmark legal cases which helped to establish key laws and principles, such as the Health and Safety at Work Act. Our national clout is represented in our local specialist teams, and the work that they do. We believe that we employ some of the brightest and best personal injury solicitors the UK has to offer. Wherever you live, rest assured there will be a team of Thompsons' personal injury solicitors nearby with local know-how and the national backing, where needed, to win your case.
Personal injury solicitors with recognised expertise
Don't just take our word for it – we're accredited by the Association of Personal Injury Solicitors and many of our personal injury experts rank highly in legal guides like the Legal 500 and Chambers & Partners. In 2019, we were highly recommended by The Times in its review of the UK's best law firms. 
Fighting harder and longer to secure more compensation
Thompsons has a history of fighting the cases that other law firms turned down, or failed to win. As a law firm acting only for injured claimants, we are able to take on cases that other personal injury solicitors won't run against employers or insurers (who might also be their clients), and we are committed to seeing your case through to the best possible conclusion for you and your family. In 2018, we successfully secured more than 11,890 cases and secured over £233 million in compensation for our clients. Those wins reflect our pledge to stand up for you, and get the maximum amount of compensation in the shortest possible time.
Transparency about fees and costs
We believe that your financial circumstances shouldn't dictate whether you are able to make a personal injury claim. That's why we're open and transparent about fees and costs from the beginning and have made a commitment to offering you better payment terms than many other law firms around. Many cases are run on a no win, no fee basis. Our video explains what no win, no fee means, and you can find more information about other funding options on our fees and payment page.
Campaigning and changing the law for the better
Of course, we want to make a difference to our clients as individuals but we take our responsibility as a leading law firm seriously and that means whenever we can to campaign for changes in the law to better serve those who have been injured. In addition to offering legal advice and expertise, we pride ourselves on our work with charities and other organisations that support injured people. 
Empathy and expertise - what to expect when making that first call
We understand that making a personal injury claim can feel daunting and our specialist solicitors are sympathetic and understanding when talking about your case. Our friendly legal enquiries team hear from hundreds of people each and every day who have suffered a personal injury or are supporting an injured loved one. Our priority is making sure you feel at ease. We will provide an honest, expert assessment of your individual case, and how likely it is to succeed, as well as making sure you have the information you need to decide if you would like to start a claim. 
Praise from the Legal 500
'The firm specialises in personal injury claims for claimants only and has a supervision structure that ensures claims are prosecuted with efficiency and with the best outcome for its clients.'